Emily Bergl, Emmy Rossum, Emma Greenwell, SHAMELESS
++ Emmy Rossum showing cleavage in a bra as she lays back on a bed and a guy reaches under her skirt and yanks her panties off. She then lies underneath the guy and they have sex with Emmy on her back at first. She then rolls over and straddles the guy, her left breast hanging out of her bra until they hear a noise and she pulls her bra back up, grabs her clothes, and runs off to hide.
++ Emma Greenwell puling her cshirt off to expose her breasts as a guy reaches up under her skirt and pulls down her panties. He then sits back on a bed and Emma climbs into his lap, riding him until he flips her onto her back and they continue to have sex with Emma's breasts in view. She then sits up afterward, still topless until she finally puts her shirt back on.
++ Emily Bergl(Sammi) comes on to Frank with a kiss and clearly hoping for sex.
Preview: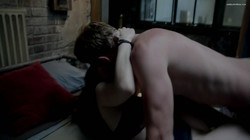 DOWNLOAD:
Keep2Share Link:
Download file - 102.6 MB
File size: 102 mb
File type: mp4
Resolution: 1280x720
Duration: 03:52